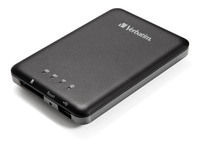 MediaShare Wireless
Connect up to 5 devices to the MediaShare simultaneously to share video, music, photos and data.
Built-in USB port and SD Memory slot allows easy access to content from a USB drive, portable hard drive or SD memory card*.
Upload and download content wirelessly to and from your tablet or smartphone.
Up to 9 hours of continued video playback**.
Free Kindle Fire, iOS and Android Mobile App available from the Amazon Appstore, Apple AppStore or Google play.